Your guests will want to Hog our delicious Roasts

Complete Hog Roast Wedding Catering

Full Wedding Marquee Service

Festival & Outdoor Catering - We can handle any weather!

Not just hog-roast!

Full service catering & event hire
Feast your eyes on this
There's nothing like the sight of a plump pig roast at a birthday party, a wedding, a fundraiser—at really any event that needs catering. The delicious aroma that greets your guests always promises a great party. And when it comes time to chow down, the rich, smoky crackling and the succulent, spit roasted meat can't be beat. What better guarantee that your guests will be glad they came?
Hog-Roast.com provides top quality spit-roast without worry or hassle. Our pigs are free-range and locally sourced so you get the best tasting, highest quality meat, chosen specially for its excellent roasting characteristics, and the preparations are all taken care of. Relax and socialize as our expert hog roast catering team cooks up a perfect pig – or why not try our easy-to-use DIY hog roast machine?
With catering available indoors or outdoors in Surrey, West-Sussex, East-Sussex, Hampshire, Buckinghamshire, Kent, London, Wiltshire, Hertfordshire, Oxfordshire, Berkshire and Dorset.
Founded in 1999 Hog-Roast.com has been the top UK hog-roast provider for more than a decade. When you book through hog-roast.com you can be sure you are getting the very best. Our company also offers a full range of Catering and Event hire options.
Many marquee heaters have laid dormant for circa 12 months and as we come out of the 2020 Coronavirus Covid-19 pandemic we are aware that our repair service department is getting a constant flow of calls to attend heaters that won't start after the Coronavirus lockdown. We have realised the many people do not have a service contract for their he... read more
---
Services
Hog-roast.com has lead the market and set the standard in hog roasting since 1999. With unbeatable reliability, quality and hygeine standards there's no wonder we have been chosen to cater many celebrity events and high-profile corporate functions.
In addition to our hog-roast services we have the ability to assist with every aspect of your party, corporate event or wedding. Please follow the links below to get a little taste of the services we offer:
Hog & Catering News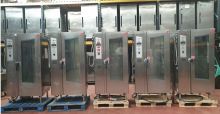 Our contact is organising 10no mobile kitchens to travel to the Ukrainian border in the coming weeks. We have all be appalled by the Russian invasion of Ukraine with the destruction of homes, businesses and factories. It goes without saying that Poland and Ukraine are under immense pressure to help the millions of refugees travelling through their countries. ...Read More
…

Friday 4th March 2022 09.00hrs - we recieved a call enquiring if we had any re-usable cutlery and plates that we could donate for our friends in Ukraine. The truck is leaving today at 18.00hrs, do we have anything we can donate ? Elizabeth volenteered to muster up help to strip our shelves of miscellaneous cutlery, some budget 18/0 some 18/10. ...Read More
…

Now that the clocks have gone back and the nights are drawing in we are busy servicing our fleet of SMC TL90 lighting towers ready to be delivered to our customers. We now boast a hire fleet of circa twenty Morris Machinery (SMC) TL90 9 metre metal halide tower lights for short term hire or long term rental. ...Read More
All Christian Faversham Group News