Canapés
Canapés served before, instead of, or plus a starter whilst you mingle with your guests at parties, weddings and corporate events. Homemade and prepared and presented fresh on the day.
Choice of Canapés hot and cold. A small section of what is available to compliment your wedding, party or outside event.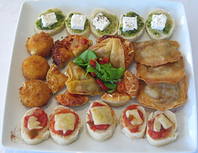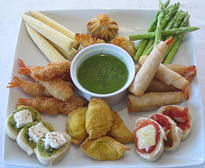 Crostini, Pesto and Fresh Mozzarella.
Mini Yorkshire puddings, filet beef & horseradish.
King Prawns Succulent prawns enrobed in natural breadcrumbs.
Aromatic Duck Succulent shredded aromatic duck & spring onion wrapped in crispy pastry.
Meat Samosas Traditional pasty filled with minced meat flavoured with herbs and spices.
Hot & Sour Parcels Chicken, vegetable, tomato, chilli, garlic, sugar wrapped in pastry.
Chicken & Veg Pillows Chicken, vegetable, black bean, water chestnut, hoisin sauce.
Chinese Money Bags Prawn filling, w/chestnut, spring onion, carrot, wrapped pasty parcels.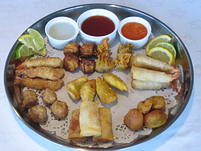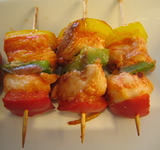 Bacon Rollers Succulent pork cocktail sausages wrapped in a delicious crispy streaky bacon.
Vegetable Wonton Vegetable & green curry filling, coconut milk, shallots, lemon grass.
Mini Pizza Chicago Town deep dish 2.5" pepperoni pizza with zesty topping.
Mushroom, Ham & Cheese Roulés, Pizza, Salmon.
Shao Mai Open parcel filled with meat & vegetable.
Cocktail Bites in puff pastry.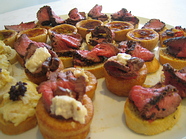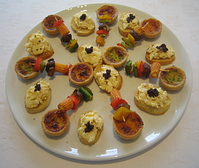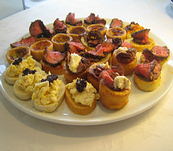 Mini Chicken Kebab Marinated chicken breast in Szechwan sauce and roasted peppers.
Goats Cheese Bites Delicious Welsh goats cheese rolled in light crispy breadcrumbs.
Peppered Beef Crostini Rolled in crushed black peppercorns and served with horseradish.